Mastering Dipping Systems (SNS) – Comprehensive Course
(from )
Click to read our article 'Top 5 Things to Consider When Choosing a Course'
Our online Dipping Systems training is flexible and self-guided, with pre-recorded and live educator-led components.
It's suitable for everyone from complete Dipping beginners through to experienced Nail Techs and Beauty Therapists who want to refresh their knowledge or upskill their previous training. Just make sure you meet the pre-requisites before you enrol!
During this Module we will cover –
The science behind Dipping Systems such as SNS and Artistic Perfect Dip
How to apply a Dip Overlay
How to maintain Dip Manicures
How to remove Dip
How to extend the natural nail with Dip
How to create an ombre effect with Dip
Your fees include – 
2 x 3-Hour Lessons – These are completed online via our Virtual Classroom video link. They are run by a Mentor (a high-scoring Graduate who we trust to work with our new students). The Mentor will demonstrate the skill you are learning that day and work with you to master it on your model.
7+ Hours of Video Content to complement all lessons as well as bonus content
Online manuals to complement all lessons
7-Day access to Educators in our Student Facebook Group
The opportunity to repeat classes for free for 12 months subject to availability.
Unlimited attempts at your Assessments
How does it work?
Within 2 business days of enrolling, you will receive access to the online components of your course, which you can access by logging into this website. Start working through the modules in the order they appear. You will occasionally see markers that say 'It's time to book a Lesson' (which refers to a 3-Hour block with an Educator or Mentor via our Virtual Classroom). There will be instructions on how to book.
Lessons can be booked with complete flexibility around your own needs and availability. You might choose to attend only mornings, only afternoons, only weekends, or a total mix and match – it's entirely up to you. Lessons are most frequently available from 10am-1pm and 2pm-5pm but we do also have a small number of sessions available on weekends and evenings (6-9pm and 9am-5pm).
You can also see a breakdown of all lessons by downloading a Lesson Guide from our Student Resources page.
What is a Virtual Classroom?
Essentially, a direct video link to a mentor. You tune in with a link we provide using the camera on your phone. We can see what you're doing. You can what we're doing. We can see your mistakes and show you in real time how to fix them. If you live near another student – get together at the same house/salon and stream in together!
To get the best out of your Virtual Classroom experience, I would also suggest getting an Octopus Tripod from Trade Me (they're under $5), attaching your phone to it, and attaching the Octopus to your overhead desk light so that your phone camera is facing down over your work space. Make sure your phone can be plugged in to its charger from your desk and that you have a good wifi signal.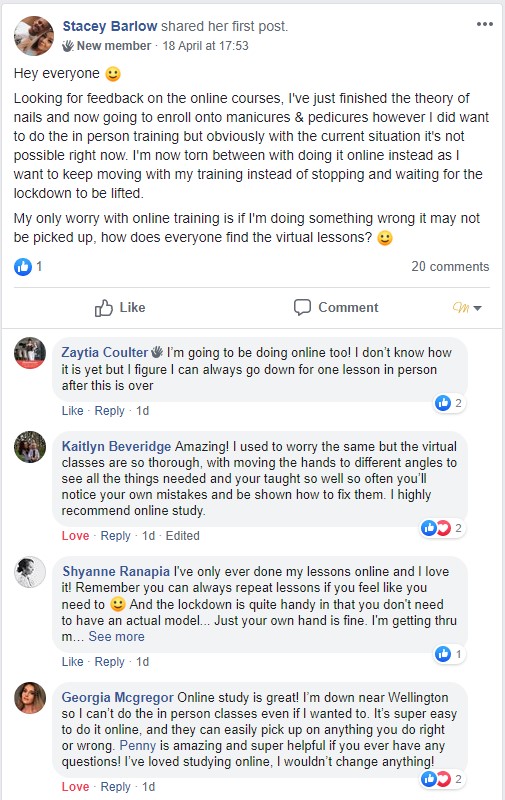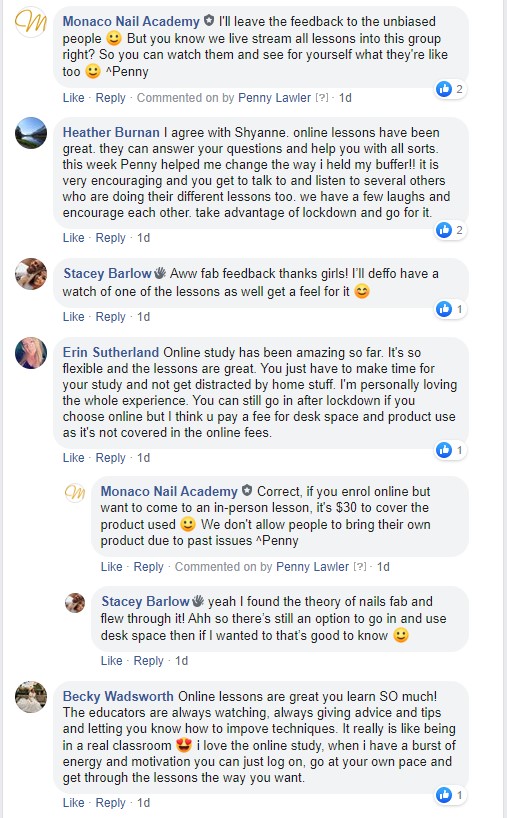 Are products included?
Not in the course fees, but you can add a Kit if needed.
The reason for this is that our training is product-neutral. We teach with Artistic Nail Design products such as Colour Gloss but it's important to us that your education is the priority and brand loyalty is a bonus.
You will need product to complete your course online. We would love that to be the products that we sell, we just understand that some of you will already have product and some of you are working for salons already. We don't want to force anyone to pay for product they don't need.
If you want to buy a kit to set yourself up from home, you can do so under 'Add Ons' by the Add to Cart button on this page. The kit includes everything you need to practice the skills learned during lessons. The items are full size, but we anticipate you using up some items during training. We don't anticipate you running out of anything – this should be all you need.
Alternatively you can buy items separately as you go (you'll find a Recommended Kit List inside the Module), or you can use your own supplies.
Payment Plans
You can pay using a credit card, bank transfer or LayBuy.