Hard Gel Upskilling for Qualified Nail Techs
(from )
Please Note – This course is not available to new enrolments.
For our current course offerings, please click here. 
*** *** *** *** *** *** *** *** *** *** *** *** *** ***
Click to read our article 'Top 5 Things to Consider When Choosing a Course'
Our Hard Gel training is flexible and self-guided, with pre-recorded and live educator-led components.
This Module is suitable for qualified Nail Technicians who want to update their skills.
This could be for one of several reasons – perhaps you qualified a long time ago and feel like your training is out of date. Perhaps you've taken a break away from the industry and need a refresher. Or maybe you trained elsewhere and feel your original training wasn't as thorough as you would have liked or you just want a different point of view.
What does Short VS Comprehensive mean?
Short courses are quicker and cheaper than a comprehensive course. We consider Short Courses to be a way for everyone to get a foot in the door, no matter your time or budget constraints. Short Courses are more self-guided, where it is up to you to ask for support and monitor your progress.
Comprehensive Courses have a guarantee of quality. Between pre-recorded videos, live lessons, free repeats on live lessons, portfolio submissions, exams and free repeats on exams, there is no way that you will not be a great Nail Tech when that certificate goes on your wall.
During this Module we will cover –
Picking up beads
Natural-look Extensions
French Extensions
Filing and Structure
Backfills (2-3 Weekly Maintenance)
Rebalances (2-3 Weekly Maintenance for French Extensions)
Fixing Cracks and Breaks
Safe Hard Gel Removal
Your fees include – 
14+ Hours of Video Content. Pre-recorded Demo videos allow you to see a demonstration from multiple angles, up close, and with the benefit of rewatching.
7-Day Support via our Facebook Group. We have a beautiful, unparalleled community of like-minded folk in there, ready to welcome you.
5-Day Support via Email and Phone
This course does not include – 
Live Lessons. We keep the cost of our Short Courses down by not including any Live Lessons. You can choose to add these for $49 Per 3-Hour Group Session Or $80 Per Hour One-On-One.
A Practical Exam Component. If you're completing this module, y

ou already have a qualification and a Short Course is about just boosting your knowledge.

A Portfolio Submission Requirement. Again, as you are already qualified, you don't need to prove yourself, we just want to support your knowledge and confidence.
A Kit. Our courses are brand neutral and we don't want to force you to pay for products that you don't want or need. However, we do sell Artistic Nail Design products and kits are available if you choose to add them.
How does it work?
Within 2 business days of enrolling, you will receive access to the online components of your course, which you can access by logging into this website. You can work through the content at your leisure.
What if I'm not good enough?
Complete the detailed pre-recorded content and then choose to add live lessons if you WANT to, for $49 Per 3-Hour Group Session Or $80 Per Hour One-On-One
We require that you complete the online content first as it may answer many of your questions and solve many of the issues you are troubleshooting, leaving you able to make the most of your in-person session by only using it for skills you haven't yet mastered. Your time with a Mentor is completely customised to suit your needs and have you leaving confident and ready to go!
Where are the courses held?
Our online courses are 100% Online including pre-recorded, live and exam components. Complete from your home or salon, no matter where you are.
Will I get a Certificate?
You can purchase a certificate for $15 in the 'Certificates' category of our online Shop. For short courses, this is an A5 Certificate, No foil. Our certificates reflect the amount of work put in, and our Short Courses for qualified Nail Techs are really just a knowledge boost.
Is there a Payment Plan?
If you're on a budget, we recommend that you start with our Short Courses. You can pay using a credit card, bank transfer or LayBuy. We also have a 'Pay As You Go' version of some courses.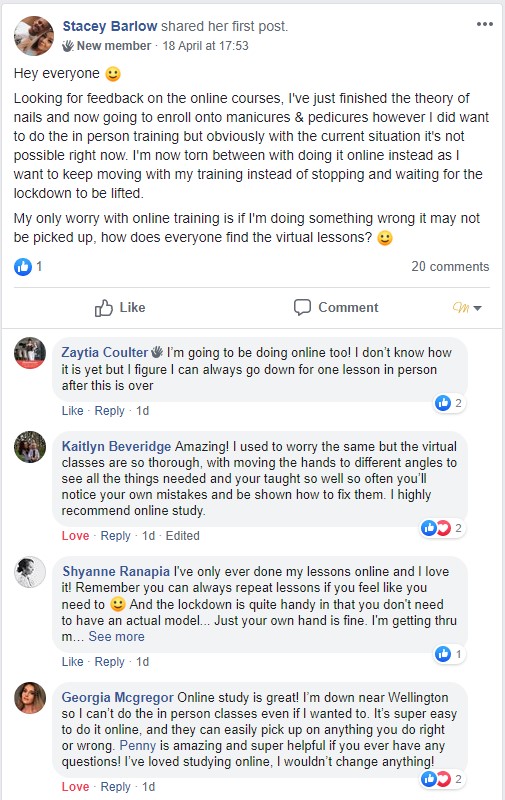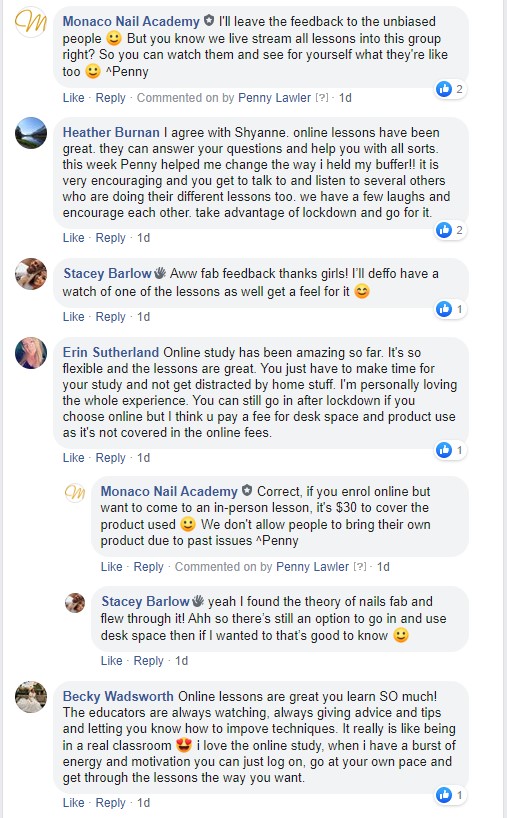 I did my Beauty Therapy qualification in 2011 and we 'briefly' touched on Manicures and Pedicures, I've been doing manicure and pedicure services for clients ever since and I thought I knew what I was doing until I started the Monaco module…….turns out I knew nothing! The detail and care that is in the training and the virtual classrooms was actually quite mind-blowing to me, I am so thrilled that I am upskilling – I wish I could go back to every client I've ever seen and redo there nails the way that Monaco has taught me as it would be a much higher standard! – Becky