How to Set Your Prices
(from )
Click here to view our article '25 Things to do on Social Media This Month'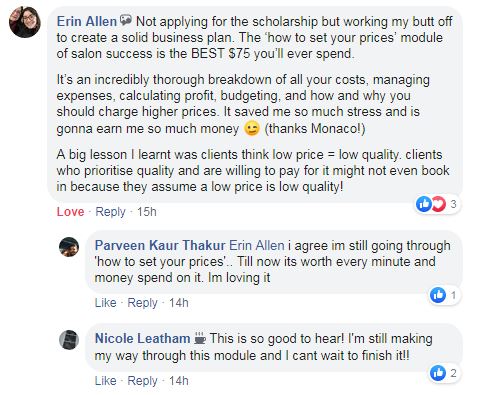 Whether you're yet to start your training or you've been in business for years, this course will get you up to speed on literally EVERYTHING you need to know to take your next step with the right foot.
By the end of this workshop you will –
Know how to get clients to (happily!) pay what you're worth
Know what you're really spending with our easy-to-use Cost Calculators
Know exactly how much to charge for every service you offer
Know how to increase your prices while making your clients happy that you did so (no, really!)
Be able to confidently compete in small towns, new towns, and in towns saturated with cut price salons
This course has HOURS of content, pre-programmed calculators, videos, worksheets and resources.
Note that this Module is comprised of content from the Salon Success course and is designed to upskill existing Nail Techs without the need for them to complete the entire Salon Success Course. If you are enrolled in Salon Success, you do not need to do both. 
After each section, you do a Chapter Revision. This is what students have written about this Module – 
Prepare for your brain to ache in the best way! I felt like I really started to know what I was doing in regards to money as I went through this course. I have rewatched a few twice and I will continue to watch again and again! Penny has really given us access to an amazing resource with this one!