Introduction to Manicures and Pedicures – Short Course
(from )
Click to read our article 'Top 5 Things to Consider When Choosing a Course'
Our Manicures and Pedicures training is flexible and self-guided, with online and educator-led components.
It's suitable for everyone from complete beginners through to experienced Nail Techs and Beauty Therapists who want to refresh their knowledge or upskill their previous training. Just make sure you meet the pre-requisites before you enrol!
During this Module we will cover –
Traditional Manicures
Gel Polish Manicures
Scrubs, Masks and Massage
Traditional Pedicures
Options for Male Clients
Your fees include – 
8+ Hours of Video Content
Texts to support your learning
7-Day access to Educators in our Student Facebook Group
Unlimited attempts at your Assessment
After completing the pre-recorded content, you can choose to book an optional three-hour group video call with one of our Mentors for $49, or a one-on-one video call for $80 per hour. We use these sessions to troubleshoot any issues you have been having.
We require that you complete the online content first as it may answer many of your questions and solve many of the issues you are troubleshooting, leaving you able to make the most of your in-person session by only using it for skills you haven't yet mastered.
Your time with a Mentor is completely customised to suit your needs and have you leaving confident and ready to go!
How does it work?
Within 2 business days of enrolling, you will receive access to the online components of your course, which you can access by logging into this website.
You can work through the content at your leisure. If needed, you can book in for a 3-Hour Online Mentoring session on Zoom where a Mentor can help troubleshoot any issues you're having.
When you're ready, book in for your Exam, also done via Zoom.
What is an Online Mentoring Session?
Essentially, a direct video link to a mentor. You tune in with a link we provide using the camera on your phone. We can see what you're doing. You can what we're doing. We can see your mistakes and show you in real time how to fix them. If you live near another student – get together at the same house/salon and stream in together!
To get the best out of your Online Mentoring experience, I would also suggest getting an Octopus Tripod from Trade Me (they're under $5), attaching your phone to it, and attaching the Octopus to your overhead desk light so that your phone camera is facing down over your work space. Make sure your phone can be plugged in to its charger from your desk and that you have a good wifi signal.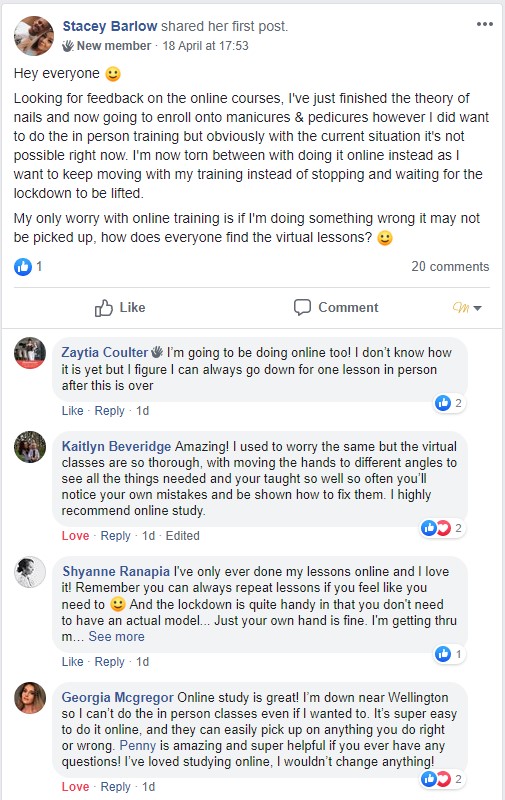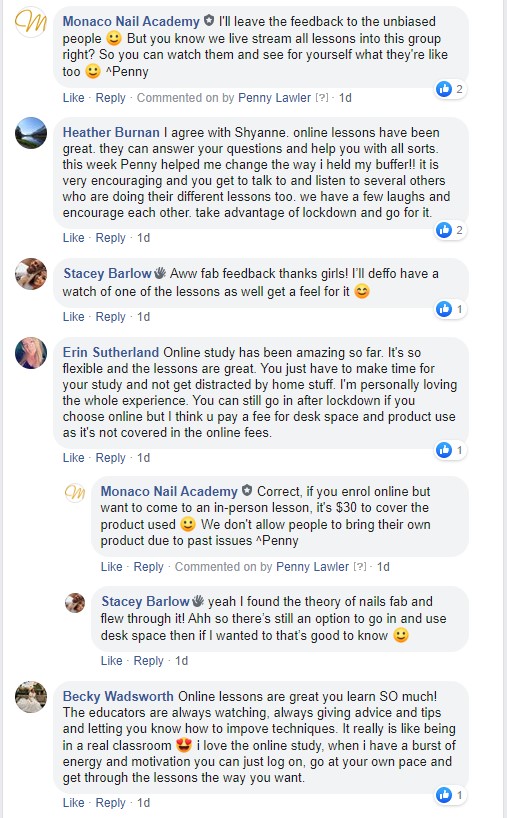 Are products included?
Not in the course fees, but you can add a Kit if needed.
The reason for this is that our training is product-neutral. We teach with Artistic Nail Design products such as Colour Gloss but it's important to us that your education is the priority and brand loyalty is a bonus.
You will need product to complete your course online. We would love that to be the products that we sell, we just understand that some of you will already have product and some of you are working for salons already. We don't want to force anyone to pay for product they don't need.
If you want to buy a kit to set yourself up from home, you can do so under 'Add Ons' by the Add to Cart button on this page. The kit includes everything you need to practice the skills learned during lessons. The items are full size, but we anticipate you using up some items during training. We don't anticipate you running out of anything – this should be all you need.
Alternatively you can buy items separately as you go (you'll find a Recommended Kit List inside the Module), or you can use your own supplies.
Payment Plans
You can pay using a credit card, bank transfer or LayBuy.
After each section, you do a Chapter Revision. This is what one student wrote after the Traditional Polish section – 
What advice would you give to a newbie starting this Chapter?
Really pay attention to the instructions and the steps, don't underestimate the module and think 'oh this will be easy, everyone has painted their nails before, ill fly through this' . The Monaco way is very detailed and focuses on a professional, high quality finish with a very high standard so don't skimp out on all of the steps and do each one with care and attention and you will be rewarded with a stunning manicure 🙂 Also lots of practice, go along with the videos and with the step by step instructions and keep practicing.
I did my Beauty Therapy qualification in 2011 and we 'briefly' touched on Manicures and Pedicures, Ive been doing manicure and pedicure services for clients ever since and I though I knew what I was doing until I started the Monaco module…….turns out i knew nothing! The detail and care that is in the training and the virtual classrooms was actually quite mind blowing to me, I am so thrilled that I am upskilling – I wish I could go back to every client ive ever seen and re do there nails the way that Monaco has taught me as it would be a much higher standard!