Salon Success: Business, Marketing and Social Media
(from )
Salon Success: Business, Marketing and Social Media is a MASSIVE online course that will take you through everything I've learned over 15+ years, growing from nothing at all, through home salons, staff members, commercial premises and multiple shifts in industry, life and goals. I went from zero clients to fully booked in four months and I've essentially documented everything I did to get there and beyond.
This course is suitable for all salon types – nails, beauty, hair, make up – and all countries – less than 10% of the content is specific to New Zealand.

Instant access to over 40 HOURS worth of content, spanning 295 video lessons
Focussed learning tasks and challenges to help you implement what you learn in those lessons
Worksheets, templates and downloads to help map everything out and avoid overwhelm
Access to a private Facebook Group where I can work with you on each step
Minimum 12 months access to the course content
Free access to all updates and changes for those 12 months
The time commitment is around 60 minutes per week plus implementation, which could be anywhere from 30 minutes plus, and is entirely up to you. It can easily be broken down into 15-minute blocks to do during your commute, after dinner, or during that sneaky extra bathroom break where you just hide from your kids.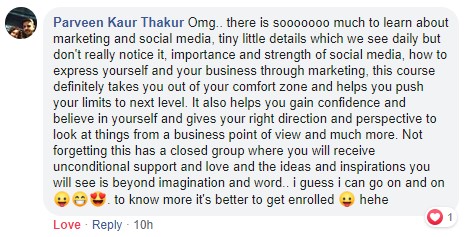 In the first section, we dive into why you are in business and where you want to go, producing a business plan.
Why are you in business? For the longest time, I didn't even consider this question. I was in business to make money, right? I was in business because I had a skill that I could make money from (doing nails) and therefore I took clients and made money.
BUT WHY?
Why wasn't I working for someone else, with less stress and responsibility? Why was I working from home instead of mobile or in a commercial space?
Can you answer these questions?
On a basic level, you probably can, but this section takes you MUCH deeper.
For me, it all came to a head when I had been pushing and growing my business for several years and realised I resented clients every time they walked in. I had gone from a small home salon with no clients to seeing 300 a month in a commercial space.
I had to step back and do a serious re-evaluation, through which I realised it wasn't the CLIENTS I disliked, it was the circumstances I had built around them.
Nails for me was about lifestyle, not money, and I had forgotten that, getting swept up in always striving to be better.
You might think that you know what you're doing and why and how and all that good stuff, but this workshop is a gold mine for cementing that and making goals happen.
This section will take you through –
Identifying your personal needs, wants, strengths and weaknesses
Clarifying your vision
Identifying your brand
Re-aligning that brand to push you in the right direction
Identifying gaps in the market that you can fill
Assessing your competition in a way that you never have to worry about them again
Building a Business Plan that can be used for personal strategy or for seeking investment and growth opportunities
Turning that Business Plan into action points that are easily achievable
And measuring your success each month in a way that motivates you to continue
Next, the basics of branding to get you underway well before you actually get to the marketing section.
When I first started my business, my first order of business was – do the first client. I didn't plan a damn thing. Story of my life I just dove right in and figured it'd work itself out. Let me just take a second to tell you – that's the HARD WAY!
So – in this next section of Salon Success, we take the foundations we laid in the previous section and start to add the framework. Without taking this analogy TOO deep, while it's super tempting to skip bits so that you can get to the painting and decorating faster, a house with shoddy workmanship will fall to bits. You need to slow down and build a solid frame.
First things first, we prioritise – in this section, we establish exactly what boxes you need to tick before you can open the doors.
"I honestly think this module helped me feel a little more at ease with where I am at business-wise. You will leave this module feeling happy with where you are at and ready to take the little steps forward to create your business. Even if you came into this with no ideas on how to get started in regards to names and social media, you will leave with many." – Past Student
After that, we head into getting your business set up – the paperwork kind of stuff.
We'll teach you how to choose a business structure, probably sole trader or limited liability company, set up your banking, find an accountant, purchase accounting software, and set up your insurance.
"My advice to anyone who is starting out is no matter how much you already know, to do courses like this, as there is always something new to learn and take into consideration. As humans it's only natural to think we know best [but] sometimes that's simply not the case and we all need a little direction here and there."
What advice would you give to a newbie based on what you learned in this Module? Prepare to get a lot of info. So many questions you have at the start will be answered by the end. Take down notes or list any questions that pop up in your mind as you go, because then you can go into our Facebook group and see if its been asked before! Chances are it has!"
After that, we get into setting up the salon itself – 
In this section, you decide how and where you're actually physically going to house your salon and you'll set up your space in a comfortable, ergonomic way.
We're going to sort out how you're going to manage appointments, how to determine your working hours, and you'll get your working stock ready to go and hopefully a small retail stand as well.
"This is going to make you feel even closer to your dream! Penny does such a wonderful job making things clear and making you feel like it isn't all as scary as it seems! Take notes that you feel are important so you can keep referring back to them as set up goes along."
Next, we cover the Health and Safety Act to make sure you've got everything covered –

In this section, we cover the ins and outs of the Health and Safety at Work Act and make sure that you end up 100% compliant.You will know exactly what to do if an accident or injury happens, how to prevent them, and who pays what when it's really serious. We will go over the Codes of Practice and make sure you can get a Health License.
"You are going to come out of this feeling a lot more confident in your knowledge and ability to instill a very clear safety plan for your salon. You will know a bit more about what to expect from your first council inspection and with that hopefully feel a little less intimidated and a lot more prepared to have everything in order ready for that day!"
We'll also cover the policies you need to run a safe and happy salon.
By the end of this section, you will have a whole stack of salon policies written up and know exactly how you're going to handle booking deposits, cancellations, late clients, naughty kids running around your salon, and service guarantees. You will know exactly where you stand on refunds and you'll have a waiver form printed out and ready to go to protect your business when you need to.
"Penny has done it again with this one! This is going to take you to the next level with your professionalism. I am finishing this feeling more like a capable business woman who has standards and knows what her business is about and what will be tolerated. I am starting to feel more confident about standing by the policies and decisions too!"
There's a whole section on how to deal with clients in positive and negative situations – 
By the end of this section, you'll be much more confident with consulting clients at the start of every appointment, you will know how to keep good records of every service and although we hope it won't be necessary, you'll be prepared for your first complaint and how to handle it.
Speaking of complaints, we're going to cover off taking things personally and sabotaging your ability to get clients out of fear – you've got this, and you're going to smash it.
"This chapter is very eye opening as to what things you may already be doing (best friend effect or fear of clients to be specific). Watching these lessons has equipped me with the skills to handle a variety of client based situations, in a professional manner. You will complete this chapter feeling ready to receive any complaint or criticism that comes your way without letting it get to you on a personal level. As well as being able to give your clients a high standard of service from the moment the walk in and continuing even after they leave."
We'll get you sorted for managing your salon day-to-day
By the end of this section, you will have a plan for day to day salon life, heaps of tricks up your sleeve for managing your time better as a small business owner and you will know exactly what tasks need to be completed each day, week and month to keep your business ticking smoothly."Prepare to get organised! This one really had me motivated to print templates and think of how I want my salon to run. I feel like I actually have some idea of how to properly run a salon now, right down to the minute I wake in the morning!"
We'll go deep into your costings, budgeting and ultimately how to price your services.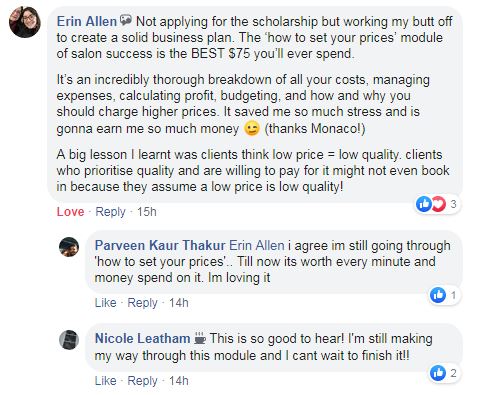 Whether you've yet to start your training or you've been in business for years, this course will get you up to speed on literally EVERYTHING you need to know to take your next step with the right foot.
By the end of this section, you will –
Know how to get clients to (happily!) pay what you're worth
Know what you're really spending with our easy-to-use Cost Calculators
Know exactly how much to charge for every service you offer
Know how to increase your prices while making your clients happy that you did so (no, really!)
Be able to confidently compete in small towns, new towns, and in towns saturated with cut price salons
This section has HOURS of content, pre-programmed calculators, videos, worksheets and resources.
"Prepare for your brain to ache in the best way! I felt like I really started to know what I was doing in regards to money as I went through this course. I have rewatched a few twice and I will continue to watch again and again! Penny has really given us access to an amazing resource with this one!"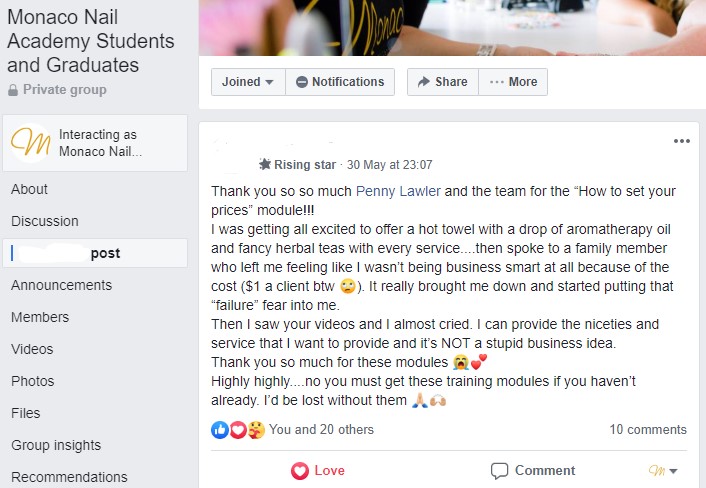 Last, we cover everything you could possibly want to know about marketing your business – 
Traditional and Digital Marketing
Social Media Strategies
Referrals and Word of Mouth
Facebook Pages
Facebook Ads
Instagram
Designing and Running Campaigns
Making Time for Marketing
Measuring the Success of your Marketing
Knowing how to fix marketing that isn't working
Strategies for making a big impact with your marketing, fast
Using influencers at various levels to boost your visibility
Schedules for covering all bases without getting overwhelmed
Deciding between Social Media platforms
Print Marketing inc Newspapers and Magazines
Twitter, Pinterest and YouTube
Content Ideas for all Platforms
Taking Good Quality Photos
Budgeting for Marketing
Niche Marketing inc Small Towns, New Towns, or with Off-Peak Hours


The full course – a year's worth of support and content – is $519 (and you can use LayBuy to pay this off!) – the equivalent of $10 per week for a year.
As a Nail Tech (although the course is suited for anyone in the beauty industry) 1 gel polish client every 5 weeks will cover the costs. Not one NEW one – just ONE. Full stop. You literally only need 1 new regular and you will have earned back the full course.
You can pay using a credit card, bank transfer or LayBuy.
How does it work?
Within 2 business days of enrolling, you will receive access to the online components of your course, which you can access by logging into this website. You can work through the content at your leisure.
Where are the courses held?
Our online courses are 100% Online including pre-recorded and live components. Complete from your home or salon, no matter where you are.
Will I get a Certificate?
This Module is part of the Foundation Certificate in Nail Technology. A Sticker to add to your Foundation Certificate in Nail Technology certificate is included with this course, available after all criteria are met.
If you would like a certificate additional to the Foundation Certificate in Nail Technology qualification, you can purchase one in the 'Certificates' category of our online Shop.
Is there a Payment Plan?
If you're on a budget, we recommend that you purchase each module individually. You can pay using a credit card, bank transfer or LayBuy.