Introduction to Nail Technology 2023
(from )
The Introduction to Nail Technology is a shorter version of the Foundation Certificate, designed to give you insight into all aspects of the nail industry before you specialise. It's great for people who have played around at home and now want to fill in the gaps and get a qualification, or for people who want a taster of all modules.
This online training is flexible and more self-guided than our comprehensive courses, with primarily pre-recorded rather than live educator-led components.
The modules are suitable for everyone from complete beginners through to experienced Nail Techs and Beauty Therapists who want to refresh their knowledge or upskill their previous training.
Your fees include the following Modules – 
Total value $2040
Combined, these include – 
Over 130 hours of in-depth Video Content
Online manuals to complement all videos
Access to Educators in our Student Facebook Group
2 x compulsory 3-Hour Lessons within the E-File Module – These are live lessons that can be completed online via our Virtual Classroom video link. The Educator or Mentor will demonstrate the skill you are learning that day and work with you to master it on your model.
Optional additional live lessons for $49 each
Unlimited attempts at your Assessments
After completing the pre-recorded content, you can choose to book an optional three-hour group video call with one of our Mentors for $49, or a one-on-one video call for $80 per hour. We use these sessions to troubleshoot any issues you have been having.
We require that you complete the online content first as it may answer many of your questions and solve many of the issues you are troubleshooting, leaving you able to make the most of your live session by only using it for skills you haven't yet mastered.
Your time with a Mentor is completely customised to suit your needs and have you leaving confident and ready to go!
How does it work?
Within 2 business days of enrolling, you will receive access to the online components of your course, which you can access by logging into this website.
You can work through the content at your leisure. If needed, you can book in for a 3-Hour Online Mentoring session on Zoom for $49 per lesson, where a Mentor can help troubleshoot any issues you're having.
When you're ready, book in for your Exam, also done via Zoom.
How long does the course take to complete?
This is entirely up to you, the full course has around 140 hours worth of videos, 6 hours of live lessons, supporting texts and then you need to practice. If you committed 3.5 hours each week to the course you would complete the course in 12 months. It is absolutely possible to commit more hours and complete it faster. Some people go great guns and finish it in a couple of months, some do it in shorter bursts and take a year, and some set aside a full week every few months and do it that way.
What's the difference between this and the Foundation Certificate in Nail Technology?
Both courses include the same pre-recorded online content, and have the same exams to pass.
The Foundation Certificate also has 150+ hours of live video lessons with Mentors, as well as Portfolio Submissions (homework) that we give you feedback on. We're with you all the way, getting you to the point of sitting your exams. The Introduction to Nail Technology requires you to be more self-guided and use the pre-recorded resources to get you to your exams without us (although you do have the option of paying extra to have more help in the form of 3-Hour group video lessons for $49 per lesson).
Essentially, the Foundation Certificate guarantees you will be great at the end – you can even repeat the included lessons for free inside your 12-month Study Period if you're not confident enough to sit your exams. With the Introduction course, you get the instruction (pre-recorded video and text content) and the verification (exams) but no guidance (lessons, portfolio work) to keep you on track.
The certificates are different to reflect the difference in depth of knowledge and experience.
If you like the price of the Introduction Course but want the knowledge, experience and prestige of the Foundation Certificate, try the Pay As You Go Foundation Cert!
Kits/Product to Learn With
Our training is product neutral. We teach with Artistic Nail Design products such as Colour Gloss but it's important to us that your education is the priority and brand loyalty is a bonus.
You will need product to complete your course online. We would love that to be the products that we sell, we just understand that some of you will already have product and some of you are working for salons already. We don't want to force anyone to pay for product they don't need.
If you want to buy a kit to set yourself up from home, you can do so under 'Add Ons' by the Add to Cart button on this page. The kit includes everything you need to practice the skills learned during lessons, you'll just need to get a table and chairs. The items in the kit are full size, but we anticipate you using up some items during training. We don't anticipate you running out of anything – this should be all you need.
Alternatively you can buy items separately as you go (you'll find a Recommended Kit List here), or you can use your own supplies.
What is a Virtual Classroom?
Essentially, a direct video link to a mentor. You tune in with a link we provide using the camera on your phone. We can see what you're doing. You can what we're doing. We can see your mistakes and show you in real time how to fix them. If you live near another student – get together at the same house/salon and stream in together!
To get the best out of your Virtual Classroom experience, I would also suggest getting an Octopus Tripod from Trade Me (they're under $5), attaching your phone to it, and attaching the Octopus to your overhead desk light so that your phone camera is facing down over your work space. Make sure your phone can be plugged in to its charger from your desk and that you have a good wifi signal.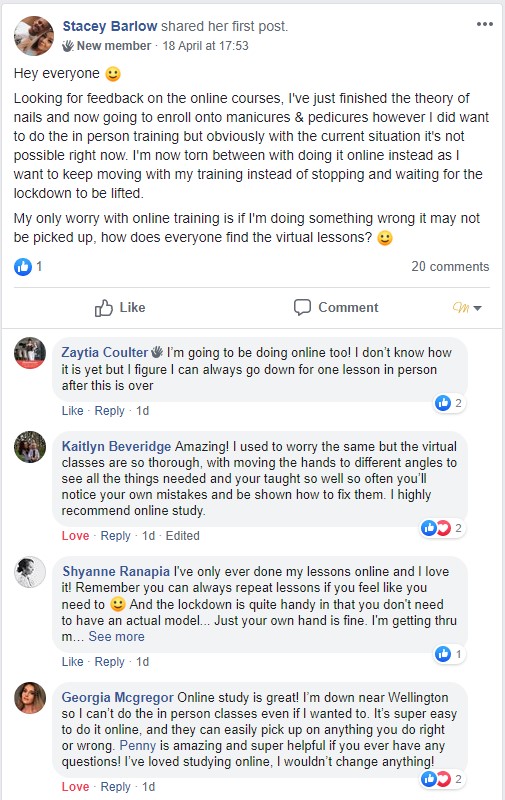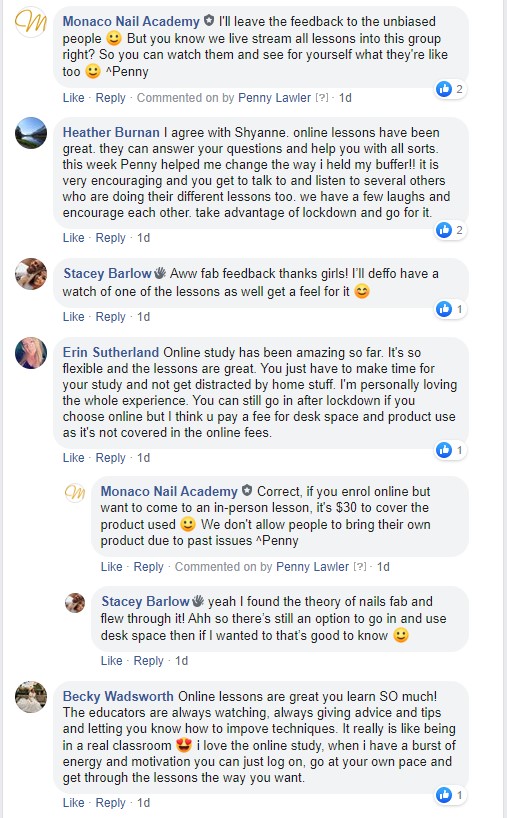 Payment Plans
You can enrol one module at a time to spread out payments and can pay using a credit card, bank transfer or LayBuy. 
*Important Note Regarding the Builder in a Bottle Module – 
A few of the videos in this module (all shorter ones, thankfully) have an audio echo. We must have bumped a setting or something, because they're all from one particular filming session and the audio is fine in videos shot before and after that session.
We have discussed re-shooting them, but, as a team, have come to the conclusion that as the majority of these were adlibbed and we are proud of the information they contain, we don't want to re-shoot and end up with an inferior level of information in the new video. It's always hard to make the same adlib magic twice! We have discovered that the echo varies in effect between listening devices, so if it is significant for you, try with and without headphones or on a different device if you can.
The way we price our courses is based on the hours of live classes, not the hours of pre-recorded content, and you do still get 12 hours of live education with a mentor, no matter what. Using the same formula that we always use to cost out and price our courses, this Builder in a Bottle module should be $349. In light of the audio defect and our decision to leave it in the module, we have reduced the price, and hope you still enjoy the course.